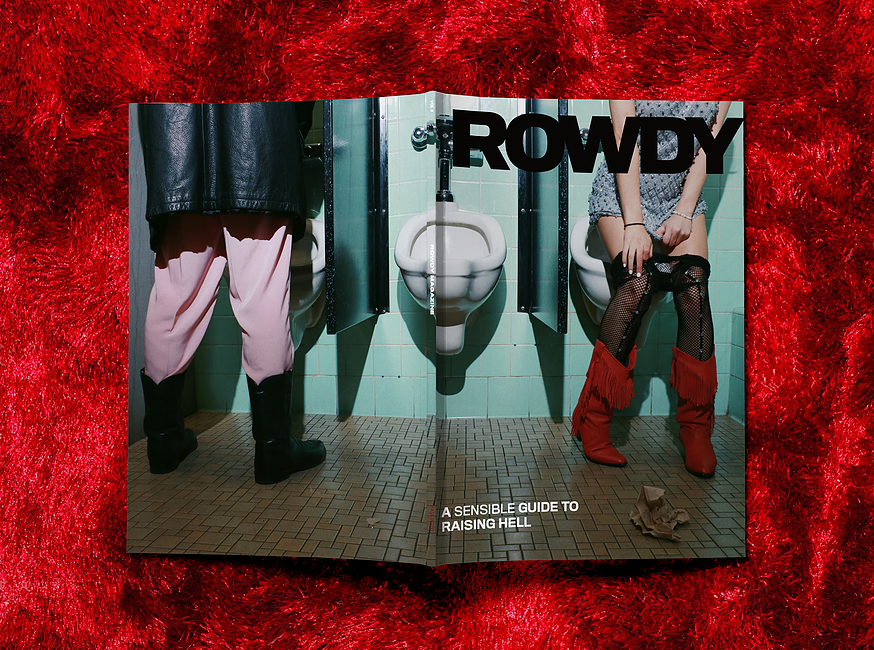 Rowdy Magazine is the leading publication for UF students focused on celebrating diversity and inspiring collective change. Over the past 2 years, Rowdy has  built a niche community through events and innovative publications at the university level. When Rowdy first began, the University of Florida had a major missing piece connecting its student body to arts, culture and activism. Moreover, a lack of publications focused on graphic design. 
The magazine began as a way to influence our peers into expressing their truest, most wild selves through a publication that serves as its own design piece. Proceeding our first release event, we found a community latching on to our mission looking to continue growing with us. Our books have since grown larger along with our spaces we create and the people we reach.
We are a small 30 person team, with diverse students of all majors dedicated to championing global change starting at the University of Florida. 
As a designer/editor for layout & marketing, it was my responsibility to ensure that the magazine & marketing materials were graphically stylized and cohesive with the bold brand the Rowdy had established. 
The logistical and physical set-up of the gallery for the launch party—planned entirely by the creative student team— paid particular attention to the notion of strong, outspoken women in business. With help from a great team of young designers, artists, marketers, art directors, stylists, local vendors, and more, Rowdy was able to host a extremely successful event that introduced an outlet for a previously-hidden culture of fashion-oriented individuals in the local community.
Social media is a vital component of our campaigning. Our team of design students work to create custom graphics and animations for any announcements we have. Often times posting about the latest in news and culture. The Instagram account has grown to over 4,000 followers.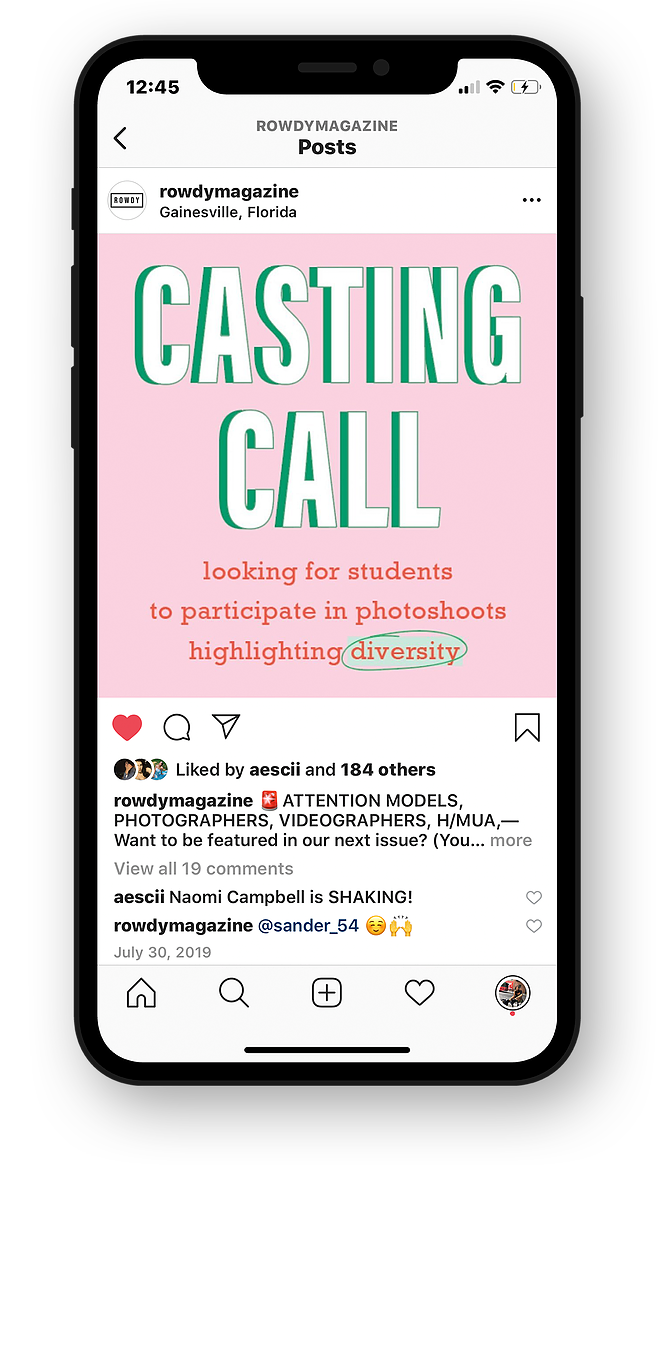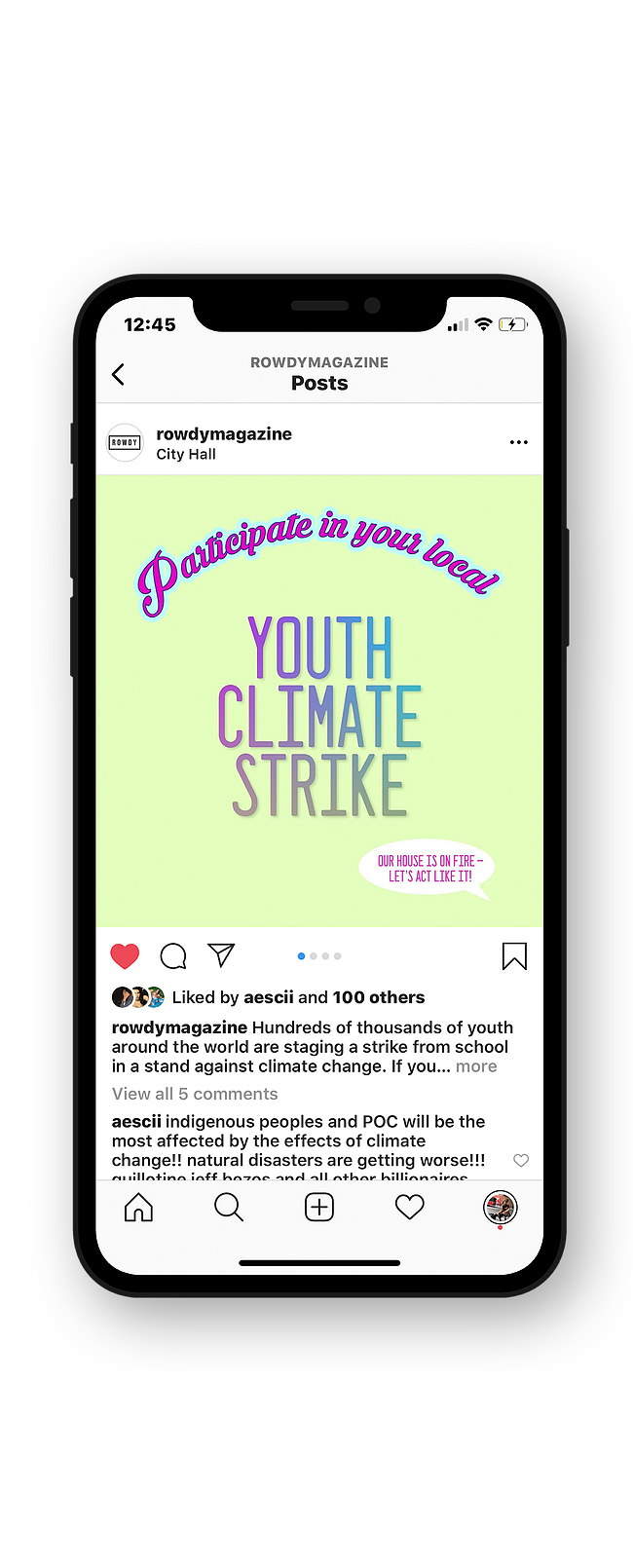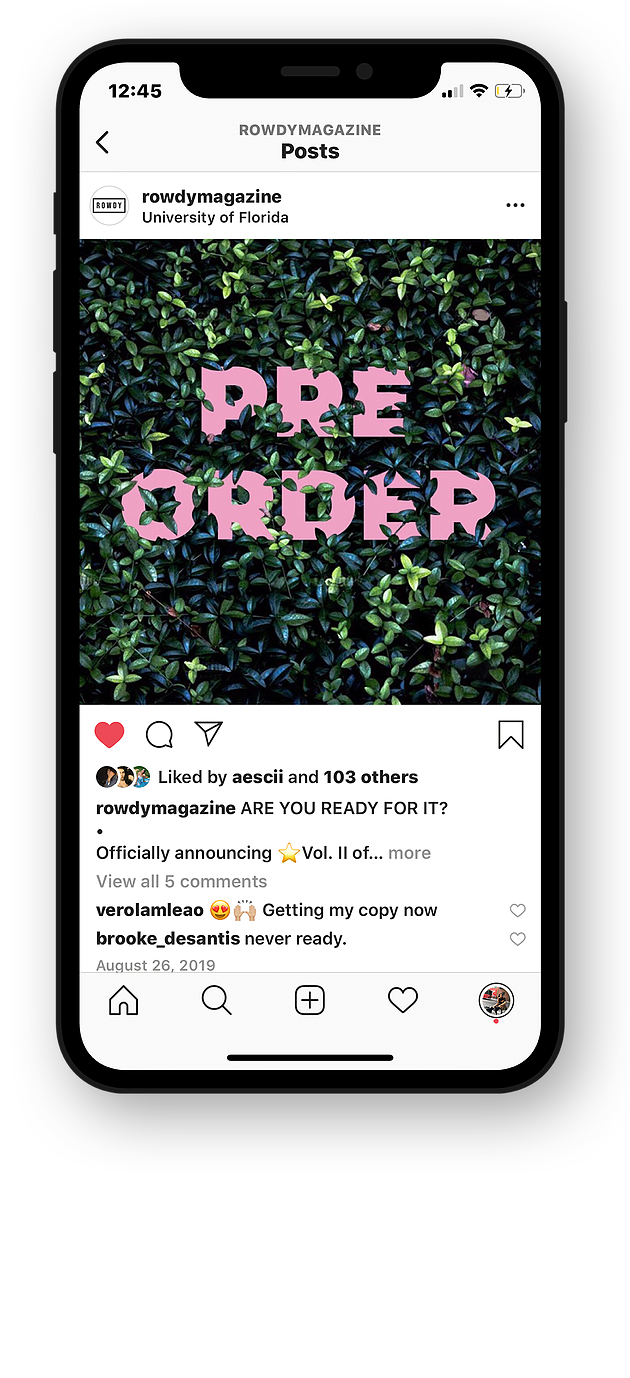 Issue No. 2:

The Identity Issue
Since its founding, Rowdy Magazine has always valued and advocated for representation, inclusion, and diversity. Released in the fall of 2019, Rowdy's second issue had a mission to shed light on the minority identities often overlooked within the borders of UF's campus and, in a larger context, all of modern media.
The Identity Issue covers topics ranging from the under-representation of plus-sized bodies to colorism and tokenism in the fashion industry. Cover model Hunter Pifer sat down with Rowdy and discussed being a trans woman and how she uses her "passing" and white privilege to empower social activism for trans representation as well as dismantling the stigma surrounding trans women.
Our team of diverse student writers, models, editors, and designers worked to accentuate the unparalleled beauty and cultures offered by the many unique identities and communities around us. The magazine's thoroughly researched articles accurately accredit minority groups for the common fashion and beauty trends we see today.
All the while, Rowdy hoped to empower the individual by emphasizing the differences we can make and the intense growth every person goes through in one's life. As college students, we see ourselves develop into professionals and mold ourselves to fit into our ideal adult lives. We undergo immense change in a relatively short amount of time to (hopefully) come out the other end as confident, authentic, and true to one's self. To commemorate this time of change, the Identity Issue's release party asked attendees to dress "monochromatic and dramatic," requesting that each and every Rowdy supporter wear an ensemble of one color that represents who he or she is
.